Leading the society to fulfill its mission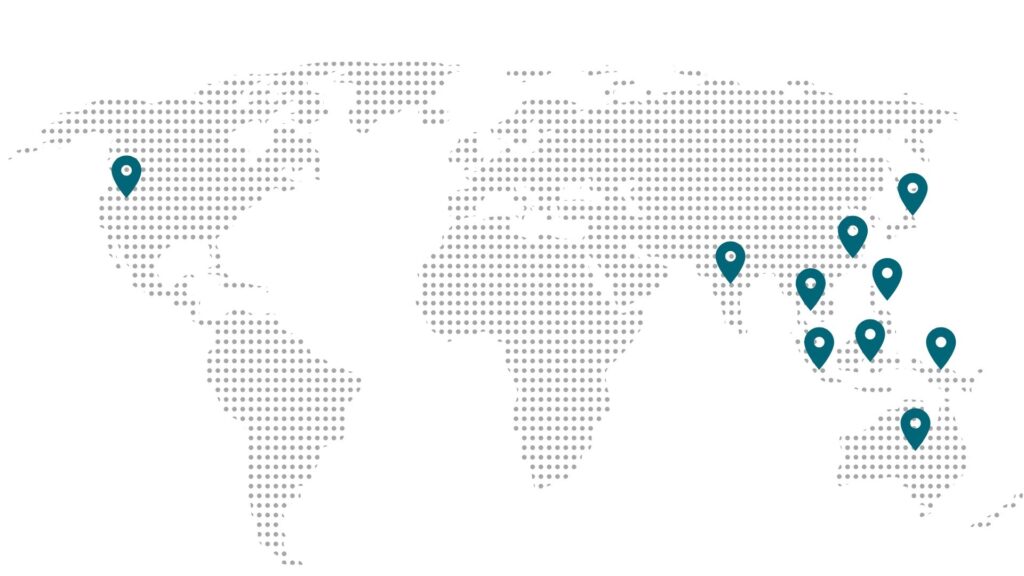 Our representatives and leaders represent 10 different countries and multiple disciplines

Juliana Lee is a pioneer genetic counselor from Kuala Lumpur, Malaysia and the first genetic counselor in Asia to be certified by the Human Genetic Society of Australasia (HGSA). After completing the Graduate Diploma in Genetic Counselling at the University of Melbourne, Australia, she began practice at University Malaya Medical Centre in 2004 till 2010 before moving on to the private healthcare setting. She has contributed to the development of the genetic counselling profession especially in Malaysia. Her field of interest is in reproductive genetics and rare diseases. In her spare time, she enjoys reading, watching movies and listening to music.

Breana Cham
President Elect
Breana Cham works as a Principal Genetic Counselor at KK Women's and Children's Hospital, Singapore. She trained in Melbourne, Australia obtaining a Graduate Diploma in Genetic Counselling and Master of Health Sciences (Genetic Counselling) from the University of Melbourne. Her experience includes the genetics of rare diseases, genetic counseling in multicultural settings and genetics education for health professionals. Her interests include communication in healthcare and genetic counseling processes in the genomics era. As a pioneer genetic counselor in her country, she has contributed to the development of national guidelines for the provision of genetics services and testing. Her leisure activities include performing experiments in the kitchen and trying to keep the garden alive.

Mercy Laurino
Past President
Mercy Laurino, MS CGC, PhD is an Associate Director of the Cancer Genetics and Prevention Program at the Seattle Cancer Care Alliance and Clinical Associate Professor at University of the Philippines-Manila. She has 15+ years of clinical experience and her research interest includes the return of results, public health genetics and actively involved in genetic counseling training. She received her MS in Genetic Counseling from the University of Colorado Health Sciences Center and PhD in Public Health Genetics from the University of Washington Institute of Public Health Genetics. For her contributions to the profession, she was awarded the 2016 International Leader Award by the National Society of Genetic Counselors. To refresh herself, Mercy relaxes by traveling, reading, watching TV and seeking out good food.

Peter James Abad
Secretary
Peter James Abad holds dual roles as a Genetic Counselor in Philippine General Hospital and Assistant Professor in the College of Nursing, University of the Philippines Manila. He is a Registered Nurse in the Philippines and completed his BS Nursing, followed by an MS Genetic Counseling at the University of the Philippines Manila. His clinical experience includes pediatric and cancer genetic counseling, with research interests in the area of family communication of genetic risk information and cultural competence in genetic counseling. In recognition of his work, Peter was awarded the One UP Faculty Grant for Outstanding Research and Public Service in Genetic Counseling (2019-2021). Under his quiet demeanor lies an ardent fan of the animated character Doraemon.

Suraj Manikandan
Secretary Elect
Suraj Manikandan a native of Chennai, Tamil Nadu, India is a consultant Senior Genetic Counselor at Apollo Hospitals, India. Prior to this he was a Clinical Genetics Liaison for the South Asia region in Centogene, a rare disease genomics multi-national company. He is a board (India) certified senior genetic counselor who pursued his Masters in Medical Sociology and double Post-Graduate Diplomas in Medical Laboratory Technology and Medical & Genetic Counseling after graduating in B.Tech. He has rich clinical experience in Community Genetic Counseling and has passionately involved in professional development, patient support & advocacy, training and teaching young GC professionals in his country. Ardent fan of PSGCA with a vision of integrating GCs across Asia Pacific to share best practices. Suraj in his leisure time travels within India to explore different cultures and practices, does adventure treks, feeds stray dogs, dedicates some time to teach children with less opportunities or who're under-privileged.

Yoyo Chu is from Hong Kong S.A.R. and currently works as a genetic counselor within the commercial sector. She graduated with a Master of Genetic Counselling from the University of Melbourne, Australia. After graduation, she practiced at the Queen Mary Hospital, Hong Kong University in the field of pediatrics, prenatal and preimplantation genetic diagnosis. Her experience also extends to carrier screening and genetic counseling for hereditary cancers. She has a keen interest in the impact of direct-to-consumer testing on the health-related behaviours of individuals and exploring public perceptions of the incorporation of genetic information into disease prevention policies. In her free time, Yoyo can be found jetting off to explore the world or immersing herself in a good crime novel.

Edbert Jasper Jover
Treasurer Elect
Edbert Jasper Jover is connected at the Newborn Screening Center Mindanao in Davao City, Philippines and works both as a Genetic Counselor and a Short-Term Follow-up Nurse in the national newborn screening program. He is a Registered Nurse and completed his BS Nursing in San Pedro College of Davao City before pursuing MS Genetic Counseling at the University of the Philippines Manila. Prior to becoming a Genetic Counselor, he worked as one of the pioneering Birth Defects Surveillance Nurse in the country. To keep life exciting, Jasper is a fitness enthusiast and enjoys watching Japanese anime. He is also a fan of travelling, going to the beach, and trying out different cuisines. 

Chinmayee B Nagaraj
Communications Director
Chinmayee B Nagaraj, CGC, works as a Genetic Counselor at Cincinnati Children's Hospital, Cincinnati, USA. After completing her Masters in Biomedical Genetics at VIT University in India, she did her Masters in Genetic Counseling at the University of Utah, USA with a graduate fellowship in Business Development. Her current role is split between laboratory genetic counseling and interdisciplinary neuromuscular clinic. Her experience includes clinical test development, training genetic counseling students and lab fellows and addressing professional development issues. She is also a trained vocalist, who continues to perform and teach music.

Donny Nauphar
Membership Director
Donny Nauphar is a PhD candidate at the Institute of Molecular Biosciences, Mahidol University, Thailand. He holds a BSc (Biotechnology) from Monash University, Australia and an MS in Genetic Counseling from Universitas Diponegoro, Indonesia (joint program with Vrije Universiteit Medisch Centrum, Netherlands). He is an experienced lecturer and is skilled in protein chemistry, molecular biology, biotechnology, cell culture and various laboratory techniques. His main area of interest lies in the molecular genetics of thalassaemia.

Kunal Sanghavi
Professional Development Director
Kunal Sanghavi completed his medical training in Mumbai, India and genetic counseling program in Boston, USA. Kunal leads projects on the strategic growth of ethical, legal, and social implications (ELSI) program, precision medicine translational research, regional networks, and virtual genetic counseling training initiatives at The Jackson Laboratory (JAX) for Genomic Medicine. Prior to joining JAX, Kunal has worked on clinical projects including telemedicine and genetics service delivery at Johns Hopkins and Beth Israel Deaconess Medical Center. He remains interested in genomics workforce development and genomic health equity.
Hong Kong – Kelvin Chan
India – Niby Elackatt
Indonesia – Sultana MH Faradz
Japan – Yasue Horiuchi
Malaysia – Rifhan Azwani
Singapore – Lim Jiing-Ying
Philippines – Ma-am Joy Tumulak
Myanmar – Sann Lin Ko